I can't take credit for the title of this post – it's from a Leonard Cohen print. Oh, how I love this city – I've been lucky enough to visit it many times in my life, and it never, ever loses its magic.
But first, back to my final day in Rotterdam. My new BDFF Linda (Best Dutch Friend Forever – heh – she may disagree but I'm running with that description for now) picked me up at my hotel in the morning and took me to Lemniscaat's H.Q. I don't think I've ever seen a more beautiful publishing house.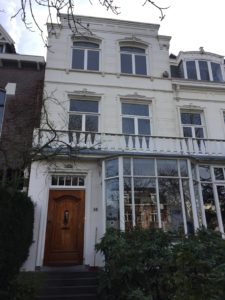 There was a nice little display awaiting downstairs.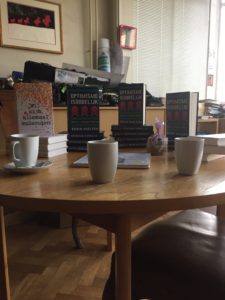 It was an absolutely beautiful day, so I and a small group of readers/bloggers sat outside in the back yard. (this is also the only publishing house I've been to that has a gorgeous back yard).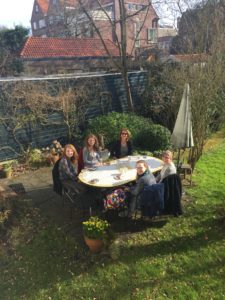 I was then interviewed by the lovely Femke, who asked a lot of interesting questions.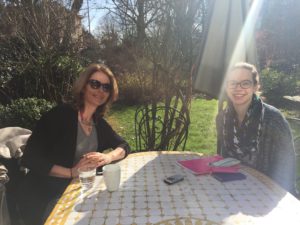 We were toured around the building, which includes an "office" for Jean-Christophe and Jesse's two young girls. It's a family run business – started by Jean-Christophe's parents, now run by JC and his wife. Their daughters are apparently already discussing who will take on which of their parents' roles – they are nine and seven.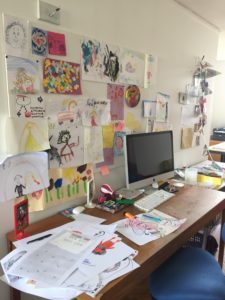 Then I met with a large group of young people, some of whom had won a visit with me (heh. Booby prize, perhaps?). They were so awesome! We had a great Q and A session. This is Linda's great selfie, and me showing my surprise at having so many people there.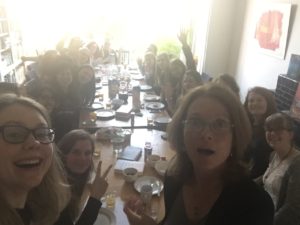 We had a good signing session afterward; a photographer was on hand to snap photos, and I've included a few.
I had to dash to the train station after that, driven by Jean-Christophe, to catch the train to Paris. Those lovely folk waved me goodbye.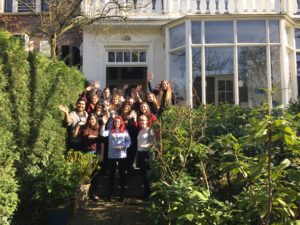 Once I'd left, they did a "Crafting for Crazies" (makes sense if you've read "Optimists Die First") activity where they decorated their own cakes. Wish I'd been around for that. Not to decorate but to EAT.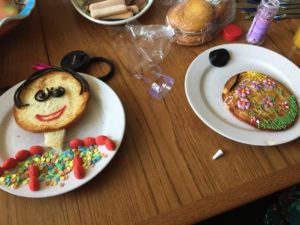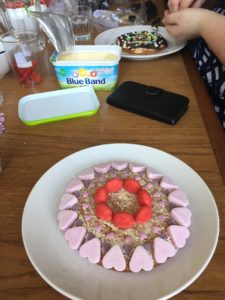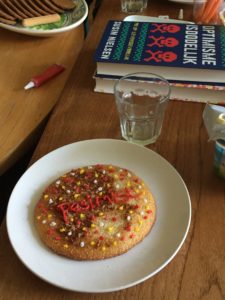 Rotterdam was really an amazing experience. So much fun to meet some of my Dutch readers for the first time. Linda and I are already scheming to get me back – they are publishing "Word Nerd" in the fall.
My lovely husband met me at the train station (Gare du Nord). He'd arrived in Paris from Vancouver earlier in the day. We're staying at a truly charming oasis in the heart of St. Germain des Pres, Hotel de L'Abbaye.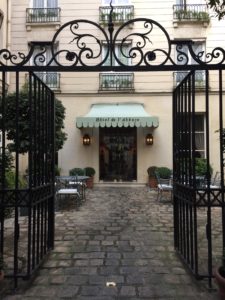 We've stayed here before (when it's a business expense!). I'll try to take a few more interior photos – it's a very special, old-world charm type of place. We walked out and had dinner at Relais de l'Odeon – a rather outdated interior, but surprisingly delicious bistro fare. On the way home we walked past Saint Sulpice, a full moon in the sky.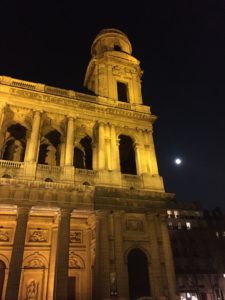 This morning Husband had to go to his trade show, and me, I luxuriated. I slept in, went for a short run in the Jardins du Luxembourg, ate a leisurely hotel breakfast in the charming breakfast nook overlooking the courtyard, then I wandered over to Le Marais. Yes, I know I have some dirt or food on my nose. Don't look at that, look at Notre Dame Cathedral!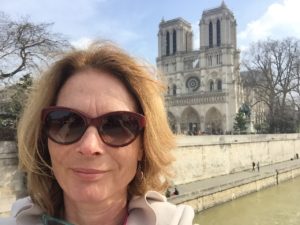 I did a bit of shopping, then I met my wonderful, funny, talented French translator, Valérie le Plouhinec for a late lunch. Look at that coat. That is a fantastic coat.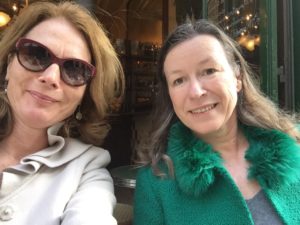 We wandered over to some stores near Les Halles, then parted ways. I walked past the Louvre, but had no energy left to go in.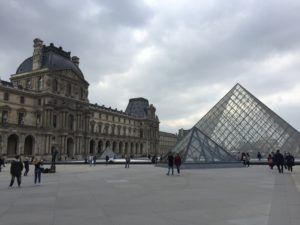 But as a wandered home, I happened upon Chantelivre, a huge children's bookstore. Of course I had to see if they had any of my books. They had "Molecules" ("Optimists" doesn't come out in French until August) – but better still, they had my dear friend Elizabeth Stewart's book, "Blue Gold!" I love that cover.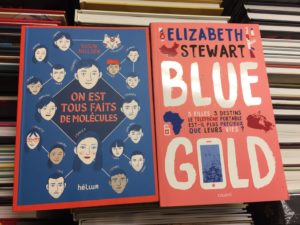 Then I realized I was feet away from Bon Marché, so I had to go buy food items to bring home. Finally it was back to the hotel … au revoir for now!