I can speak Dutch. Well, one phrase. I know how to say "A piece of young to middle cheese, please." This was taught to me long ago by a Dutch friend. I stayed with her in The Hague for a few weeks when I was much, much younger.
Now let me tell you more about my truly amazing hotel in Rotterdam.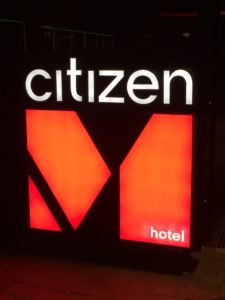 This thoroughly modern hotel lets you pick your room upon computer check-in. The rooms are small but super functional (ie they don't feel small). Very, very quiet, like a vault, very comfy beds, and everything controlled by your personal iPad, from temperature (which is one of my "musts") to "mood." I tried "relax" and "party" last night. With "party" my pod-like bathroom lighting turned purple: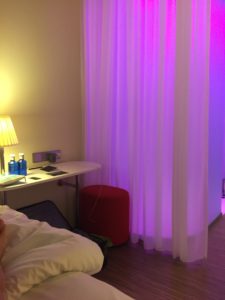 And this magically appeared on the TV, with music – it was a sort of psychedelic slide show of smiley faces.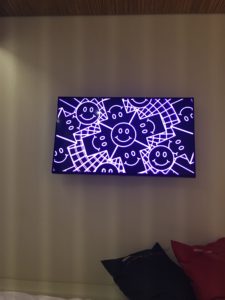 The concept is that we don't spend all of our time in our bedrooms, so they have amazing "living rooms" on the main floor of the hotel. Here are a few photos: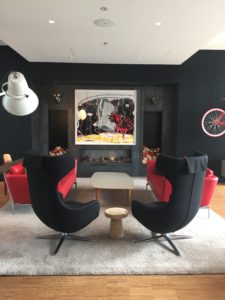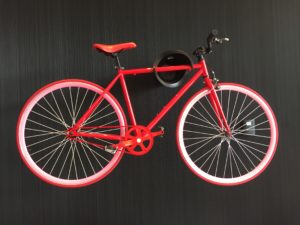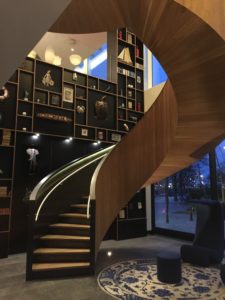 And while I did not pay for the hotel myself, I'm pretty sure it is entirely reasonable. I would stay at a Citizen M anywhere they have them in a heartbeat. Also very sweet and friendly staff, and a darned good complimentary breakfast. (Ooh I just checked and they even have one in New York!).
Just before I went to bed last night, I opened the gift that Donner Books sent me home with. Honestly, it was like they'd been stalking me, because the gifts were perfect.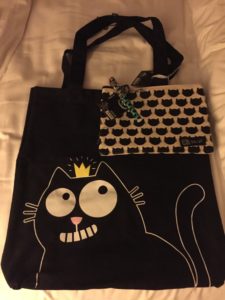 After a wonderful deep sleep in my huge bed (do I sound like I've been hired by Citizen M to spread the word?) I met Lemniscaat's intrepid publicist, Linda Bertens, for another day of bookish activities.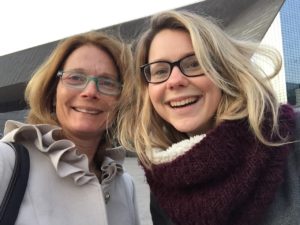 A word on Linda: She is exceptional. I feel like I've just encountered a long-lost friend. She is so easy to talk to, so personable. And she's about to move into the editorial department at Lemniscaat, which is terrific. Lemniscaat sounds like a wonderful place to work – it's a family business, began by Jean-Christophe's parents and now run by Jean-Christophe and his wife (and their two young girls are already discussing taking over one day).
Honestly, the book business is filled with such amazing people!
The day started with a couple of interviews with book bloggers, first the charming Maaijke and Selma: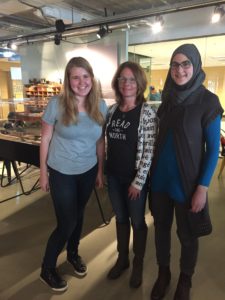 And the equally lovely Mathilde: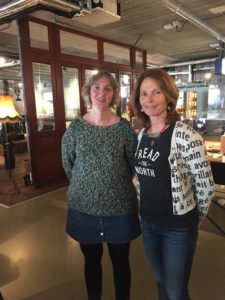 Then Linda and I headed by train to Nijkerk and Roodbeen Boekhandel. Members of a young adult book club were supposed to come to a meet 'n greet. They did not.
Now … every author knows that feeling. That little pit in your stomach … BUT. At least the little pit was filled with a famous brand of Dutch chocolate: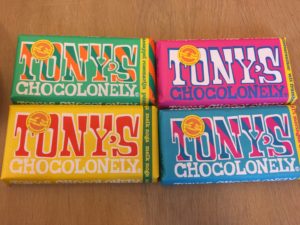 And, I met this lovely 12 year old girl, an aspiring writer, who asked me questions about craft and was genuinely thrilled to meet a real, live author (and yes, she bought my book. The sale du jour). AND, I roamed the store and was delighted to see fellow Canadian authors representing!!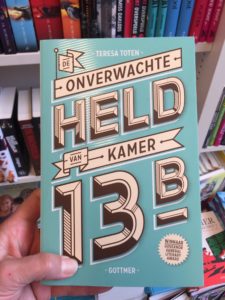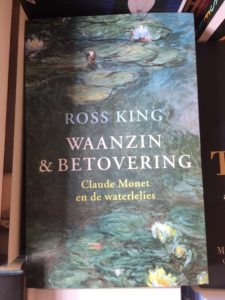 Lovely Linda and I took the train back to Rotterdam. This picture outside Rotterdam Centrale sums up the city, I think, with the cyclists gliding past.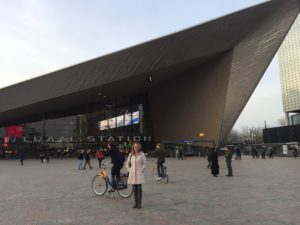 We had a slow walk back towards my hotel, and Linda suggested we go up "The View" – the Rotterdam version of the London Eye. This photo shows the famous Markthal beside the ferris wheel.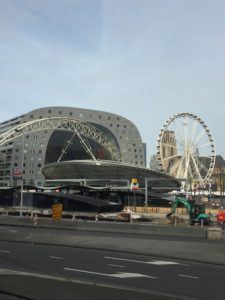 We both thought we were brave until we got on it.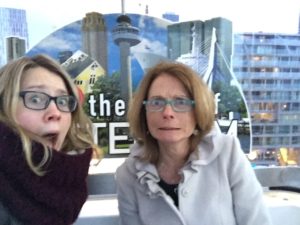 I loved spending the day with Linda. We parted ways at that point, and I had a yummy solo dinner in  the Markthal. The ceilings in there are remarkable.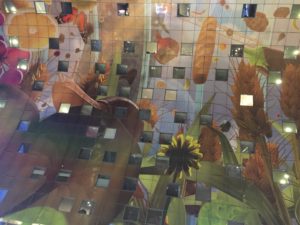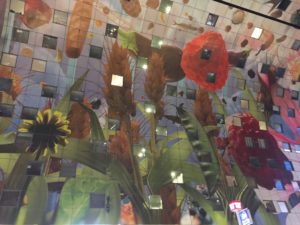 Here are a few photos of Rotterdam to leave you with – it's a city that was heavily bombed in WW II, so many of the buildings are ultra-modern – I admire their boldness when it comes to their modern architecture, especially compared to Vancouver.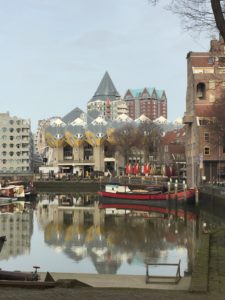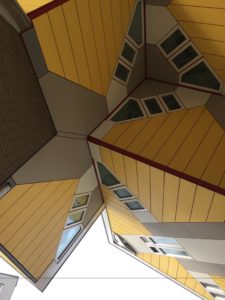 Those cube houses are famous – you can apparently tour one of them – I wish I'd had time to do so. Can't quite imagine what they look like inside! Here's that darned ferris wheel at night: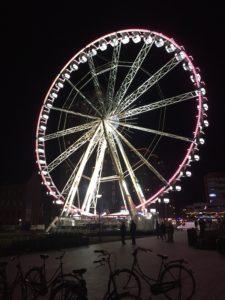 Tomorrow I get to visit the publishing house, and meet with book bloggers – then, it is off to Paris, where I reunite with my beautiful husband.