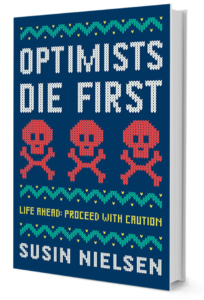 (excerpted from an interview with "Adventures in YA Publishing")
What is your favorite thing about OPTIMISTS DIE FIRST?
Well, from an author perspective I guess I'm glad I feel it holds together as a novel, if that makes sense. But just from a fun and joy perspective, it would definitely be the cats … and the unique ways in which they are utilized in the story. I've been a big fan of cat videos since Keyboard Cat Moon, which must be one of the first!
What was your inspiration for writing OPTIMISTS DIE FIRST?
I don't know why I started toying with the ideas of guilt, and shame, and blame. I notice I like to sometimes dig into behavior and situations that I've tended to look at in a very black-and-white way, because of course nothing in life is ever black and white, and I think it's a novelist's job to explore the grays. Also, I wanted to try my hand at a novel with slightly older characters, and attempt a realistic portrayal of first love. I've never forgotten Judy Blume's "Forever," which did that really well. It was important for me to depict a positive and consensual first-sex experience too, because I'm not sure it happens very often in YA fiction, yet it's a part of life for many young people.
What did this book teach you about writing or about yourself?
This was the hardest book I've written to date. I'm not sure why. It was the first time I'd written under a two-book deal, this one being the second "unwritten" project, and I felt the psychological pressure in ways I didn't expect. I got a load of editorial feedback on my first sh*tty draft. I remember I immediately dove into the second draft with a vengeance, which on the one hand was a good thing – no rest for the weary – but I wrote it with this really angry attitude (not at anyone in particular, certainly not my editors! If I was angry with anyone, it was with myself). Like, "I'm gonna wrestle this effing thing to the ground."
And you know what? That was not a good headspace from which to write. The book did get better … but for the third draft, I wrote with joy in my heart. I reminded myself every day how truly blessed I was to be able to do this, and get paid for it no less. And that joy shone through. I finally felt I'd truly cracked it. So I learned to try to always write with joy. (It does not work all the time!).
What advice would you pass on to other writers?
It's been said before by many smarter writers, but I really do believe it: Put your bum in the seat. Treat it like a job (or a part-time job if you have another job to pay the bills!). Writing is not about waiting for the muse to strike. Also, read.
What are you working on now?
I'm just waiting for editorial notes on the first draft of a new middle-grade novel, the working title is No Fixed Address.