So, this happened last night: I interviewed best-selling author David Walliams in front of five hundred adoring fans. How this came about: A couple of weeks ago, one of the owners of Kidsbooks, our beloved and cherished children's bookstore here in Vancouver, called to ask if I would interview him for his first North American visit. I said sure. She said, "Do you know who he is?" "No, I do not." She went on to tell me about his books, then slipped in, "Did you ever watch Little Britain?" "Um, YES, I love Little Britain." "Well, he's one of the guys."
And he is. He is this guy: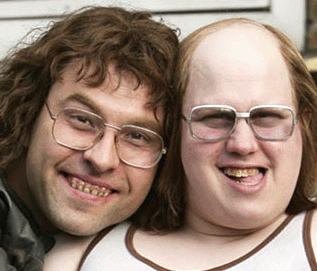 And my all-time favourite, "Carol:"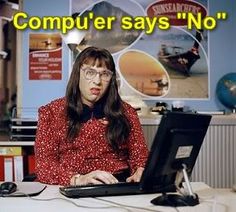 And, Kidsbooks owner went on to tell me, he's written about ten highly successful kids' books. His team wanted a 'celebrity interviewer' to interview him on stage. Poor David got stuck with me. But as I researched him, I discovered we had a few things in common. He changed the spelling of his last name from Williams to Walliams to distinguish himself from the many David Williamses in the UK. I changed my name from Susan to Susin when I was thirteen because "Susan" was too mundane. We both have "dual careers" in TV and in the book world. And he's a talented actor. I too am a talented actor best known for my role as the janitor in Degrassi. Okay, my only role. Okay, in two episodes. And okay, I was really wooden and terrible.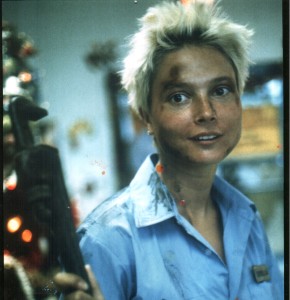 And we've both sold millions of copies of our books!! Oh, wait – I was having a fantasy moment. David has sold millions of copies of his books. I have sold books!!
So I got to work and started reading a bunch of David's titles. Here are just a few of them.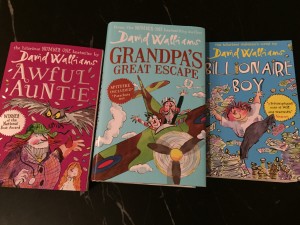 They are wonderful. Like a modern-day Roald Dahl, he writes about flawed kids put into some outrageous and hilarious situations. The humour is spot-on and kid-perfect (and adult-perfect, too – I noticed he slips in a few things that only adults would pick up on), and every book also has some more serious themes, some darker stuff – dead parents, bullying, even a grandpa with dementia. He taps so perfectly into the kid mindset. I wish I'd had these books growing up, and I wish I'd had them when my son was growing up – age-wise I think we just missed out. I thoroughly enjoyed reading them as an adult, and reading them aloud to a kid would be fantastic.
So last night came, and I met David. What a kind and professional man. He wore a gorgeous suit (I felt under-dressed). When I asked if he ever got nervous before these events, he said not often, but that once on a big tour in Australia, he'd done 9 events with nary a nerve – then at the 10th he was told Russell Crowe was in the audience with his kids. "Why did I care what the Gladiator thought of me? But it's psychological, isn't it? I got all dry-mouthed." I told him Russell Crowe probably got dry-mouthed seeing him. Then he told me he got a bit nervous performing in front of the Queen. I asked if she laughed, but he couldn't tell because she was seated far away in her royal box.
The owner of Kidsbooks introduced him (and me) while we stood backstage. She mentioned he'd sold over EIGHT MILLION books. He murmured, "More than that." His assistant said, "Nine point five million." I said, "What's a million give or take?"
The audience, of course, adored him. He's so personable and funny, very quick on his feet, and told great anecdotes about where certain ideas came from: "The Boy in the Dress" – his sister used to dress him up in a bridesmaid's gown and parade him down their street; the "Ratcatcher" villain – when he was one of the judges on "Britain's Got Talent," a man came in and ate cockroaches. He read, he talked about his own literary influences, and he took questions from the audience. And he must have sold at least 500 books. He signed and signed, and let everyone take photos.
As for me, I managed to have only one CSM – "Classic Susin Moment" – when I told him I thought his books "turned on" a lot of readers. Heh. He ran with it, while I blushed.
It was a great evening, for me, at least. David was very gracious about my participation. I'm sure I wasn't exactly what his "people" had in mind (he's going to be interviewed on the Late Late Show in LA this week by his old friend James Cordin), but if he was disappointed he certainly never let it show. This was his first stop on a whirlwind North American tour. Lastly, here's David and I: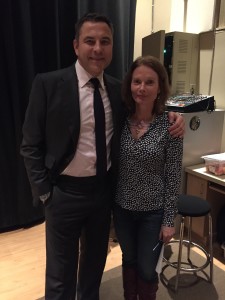 A friend of mine was there and was trying to get a photo of David during his signing so I did what any good friend would do, and photo-bombed it.