ABOUT THE NORTH AMERICAN EDITION  I  ABOUT THE UK EDITION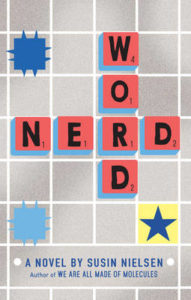 Meet Ambrose – a twelve-year-old with a talent for mismatching his clothes, for saying the wrong thing at the worst possible time, and for words. In short, he's a self-described nerd. Making friends is especially hard because he and his overprotective mother, Irene, have had to move so often. When bullies at his latest school almost kill him by deliberately slipping a peanut into his sandwich, Ambrose is philosophical. Irene, however, is not, and decides that Ambrose will take correspondence classes from home.
Home is the basement apartment in a house owned by a kindly Greek couple. Surely Ambrose will be safe here. But unbeknownst to his mother, Ambrose strikes up an unlikely one-way friendship with the landlord's son, Cosmo, based on the only thing they have in common: a love of Scrabble. Ambrose learned to play with his mother at the kitchen table. Cosmo learned to play in prison. When Ambrose convinces the reluctant Cosmo to take him to a Scrabble club, a small deception mushrooms and they both find much more than they bargained for, from run-ins with lowlifes to high romance.
In this brilliantly observed novel, author Susin Nielsen transports the reader to the world of competitive Scrabble as seen from the honest yet funny viewpoint of a boy who's searching for acceptance and for a place to call home.
Order now from: WATERSTONES I AMAZON I PUBLISHER: ANDERSEN PRESS
PEEK INSIDE THIS BOOK I READ ABOUT THE INSPIRATION BEHIND THE BOOK
---
REVIEWS
"Twelve-year-old Ambrose Bukowski … is the titular nerd and it's in his delightful, disarming voice that "Word Nerd" unfolds … This (is a) funny, wry tale, a tale that involves a lot of Scrabble, the reformation of an ex-con druggie and the coming-into-himself of a boy. And there's a bit of love, too, actually."
The Globe and Mail
"This is a tender, often funny story with some really interesting characters. It will appeal to word nerds, but even more to anyone who has ever longed for acceptance or had to fight unreasonable parental restrictions." School Library Journal, Starred Review
"… Enlivened by the witty, articulate musings of a hyper-observant and eccentric protagonist, "Word Nerd" is also chock-full of valuable lessons about being yourself and giving second chances. The swift, fully developed plot, advancing in short, action-packed chapters, makes the story a page-turner."
Quill & Quire
"… In creating Ambrose Bukowski, Susin Nielsen has done a fine job in bringing to life a first-class nerd whose very limitations make him a most extraordinary person …" Canadian Children's Book News
"… While this has many of the hallmarks of slapstick-touched boy books – bathroom humor, mammary appreciation – Canadian author Nielsen resists such titles' usual tendency to pad their realistic edges, and she instead marries an age-appropriate jokiness to genuinely thoughtful writing … There's humor and poignancy enough here for both fellow word nerds and those who just enjoy seeing a kid blossom under unlikely circumstances." The Bulletin of the Center for Children's Books
"A wry and wise novel about a most unlikely friendship between two Scrabble freaks – a nerdy kid with a peanut allergy and a tough but loveable ex-con – is one of the most delightful reading experiences of the year. Susin Nielsen writes with an understated, mordant wit that draws the reader into the quirky story right from the start." Phyllis Simon, Vancouver Kidsbooks
"Vancouver's Susin Nielsen writes for the TV series "Robson Arms" and "Alice, I Think," and you can tell. She's good … You know it's going to be good when he imagines the headline, "Friendless nerd killed by peanut." It's local and hilarious." The Georgia Straight
---
AWARDS
Winner of the 2010 Red Maple Award
Winner of the 2010 Rocky Mountain Book Award
Winner of the 2010 Manitoba Young Readers' Choice Award
Winner of the 2010 Saskatchewan Young Readers' Choice Award (Snow Willow)
Winner of ForeWord Magazine's Book of the Year – Silver 2008 Juvenile Fiction
Nominated for the 2010 Golden Oak Award
Nominated for the 2009 TD Canadian Children's Literature Award
Shortlisted for the 2009 Canadian Library Association Book of the Year Award
Shortlisted for the 2009 Ruth and Sylvia Schwartz Children's Book Awards
One of The Globe and Mail's "Susan Perren's Top 10 Children's Books for '08"