ABOUT THE NORTH AMERICAN EDITION I  ABOUT THE UK EDITION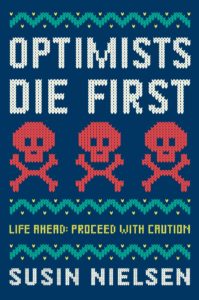 Is the glass half full or half empty? For Petula De Wilde, sixteen years of life has proven that the glass is most definitely half empty. Ever since tragedy struck her family, she's learned to see potential danger everywhere – whether it's crossing the road or eating a poached egg. Petula's determined not to let her guard down, even if this means allowing herself to be ruled by anxiety and grief, and giving up her best friend, Rachel.
Then the Bionic Man walks into her therapy group. Strikingly tall and confident, Jacob has survived a different disaster, lost an arm, and still come out smiling. At first Petula is repelled by his outgoing optimism, but even she can't deny their chemistry together. Soon, her barriers come crashing down.
But optimism – and love – are blind. And Petula is heading full speed into the danger zone.
---
Order from:
KIDSBOOKS I MCNALLY ROBINSON I AMAZON I CHAPTERS-INDIGO I PENGUIN RANDOMHOUSE
PEEK INSIDE THIS BOOK I READ ABOUT THE INSPIRATION BEHIND THE BOOK
---
PRAISE FOR OPTIMISTS DIE FIRST
"Nielsen writes with sensitivity, empathy, and humor, believably lightening Petula's constant efforts to cope. Every character … comes across as a unique human being … Another lovely outing from Nielsen." Starred Review, Kirkus
"But perhaps the novel's greatest strength is its handling of the characters' very real burdens with sympathy, wit and not an ounce of melodrama. Nielsen excels at depicting troubled, clever teenagers in familiar environments." Starred Review, School Library Journal
"Readers will be riveted by Petula's rocky attempts to repair damaged relationships with her parents and a friend she drove away, connect with the members of YART, and open herself up to the idea of romance with Jacob." Starred Review, Publishers Weekly
"Optimists Die First is Nielsen's fifth novel, and her best work to date. Given her critical and commercial success in the world of Canadian CanLit … this is no small achievement … Coping is complicated, and Nielsen never pretends that's not true." Starred Review, Quill and Quire
"… A humorous, heart-breaking account of grief-induced anxiety … This powerful book looks past pain and stares wrongdoing squarely in the eye – it's also fabulously full of cats with eccentric names." The Guardian
"Optimists Die First will make you feel bigger in every way. Bigger in courage to face a dangerous world; bigger in feeling; bigger in love; bigger in your ability to put yourself back together after something that should break you; and yes, bigger in optimism" — Jeff Zentner, Author of The Serpent King
"Nielsen writes Petula and Jacob's relationship as such a beautifully aching, fluttery, strange and hazy- happy first-love; it's sincere, genuine, and unforced … a gorgeously written, funny and heart-rending read." Fab Book Reviews
"I fell for Optimists Die First like I was curled up with a familiar favourite – all the offbeat charm of a 21st-century Paula Danziger, with a bittersweet romance at its sorrowful heart" — Harriet Reuter Hapgood, Author of The Square Root of Summer
"If there is a finer writer of novels for teenagers than Susin Nielsen, I've yet to discover them. No one can match the heart she packs into each of her books." Phil Earle, author of Demolition Dad
AWARDS/HONORS
Longlisted for the 2018 UKLA award
Nominated for the YALSA Best Fiction for Young Adults List, 2018
Nominated for the OLA White Pine Award, 2018