Now I'm at Charles de Gaulle, waiting for the first of four flights home. Yes, you heard that right. Because I booked on points (to get a business class seat, yay!) my route is a tad ridiculous. Paris-Frankfurt, Frankfurt-Calgary (that part is awesome), Calgary-Edmonton, Edmonton-Vancouver. I'll be a basket case when I get home. But this is how badly I wanted a pod. So, you could say I made my own bed.
Had a lovely last couple of days in Paris. On Thursday morning I walked my husband through Luxembourg Gardens to his metro station. There are worse walks.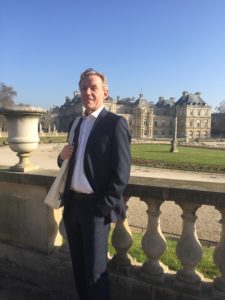 Then I went back to Hélium so they could videotape an interview with me, to be used in August when the new book is released here. They are housed with Actes Sud in a beautiful old building. You say hi to the receptionist through a little window.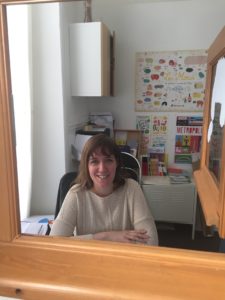 While I was there I got to meet two other Hélium authors – well, these two are multi-talents, they are author-illustrators, Didier Cornille and Benjamin Chaud. They both write/illustrate beautiful books, and I got one of each, signed! Benjamin does a wonderful "Bear" series which is also published in Canada.
After that I was free as a bird. It was a beautiful day, sunny and 18 degrees. I treated myself to lunch at La Bonaparte near église St. Germain des Pres.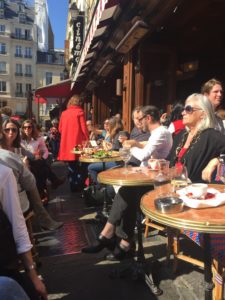 Parisians know how to enjoy their first full-on day of spring! I then had coffee with a French film writer/ director who is interested in adapting one of my novels. Kind of cool, right? I liked him – we shall see how things unfold.
Then I walked … and walked … to the Orangerie, just to sit with Monet's waterlilies. My pal Ross King has written a beautiful book about this, "Mad Enchantment," which just won the RBC Taylor prize for non fiction. However, of course, these days it's hard to sit and just contemplate/meditate on the beauty of the paintings, which was Monet's own wish when the gallery was set up, because everyone wants to film the paintings. Literally walk around the entire two rooms, filming, looking at the paintings through a viewfinder. I kept moving to avoid this guy …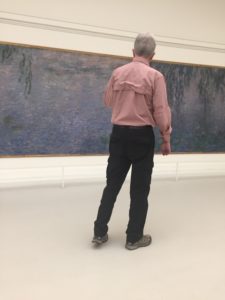 But he haunted me like a ghost! As someone much kinder than me pointed out, he might have been filming them for a sick spouse, or an art class … but the thing is, so many people were doing what he's doing – and I don't think they all had a good excuse.
That evening, Husband and I walked over to Le Marais to have a final dinner with my translator Valérie. It was a spectacular evening.
We ate at a tucked away restaurant called Le Hangar, which I've been to in the past – highly recommended. Delicious food. On the way home we stumbled upon Shakespeare and Co – believe it or not I don't think I've ever been inside! What a great store. I thought this was interesting – Canadian Kyo Maclear has written a lovely book (which I have a copy of) called "Birds, Art, Life." Here is the title, in English, in France: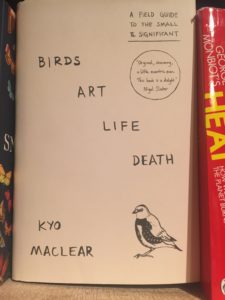 Is that not so French?? And yet, it's in English! The UK edition? We share a publisher on the children's side, so I'm going to find out!
A day later – I'm finishing writing this at home. Had to board my first of what turned out to be only three flights, I can't believe I'm uttering the words "Thank you Air Canada!" but they did a great job of getting me on a direct flight to Vancouver from Calgary, instead of having to go to Edmonton first. Husband and I travelled separately (like the royal family, heh – not for their reasons!) and arrived back in Vancouver within ten minutes of each other – like it was choreographed to perfection.
On Friday Husband had the day off. We had a great day. A run in Luxembourg Gardens, followed by breakfast at our hotel.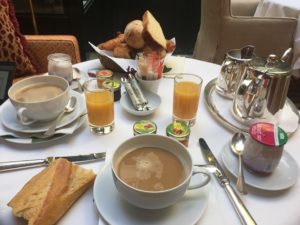 Here are a few more photos of the lovely Hotel de l'Abbaye.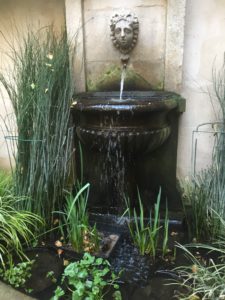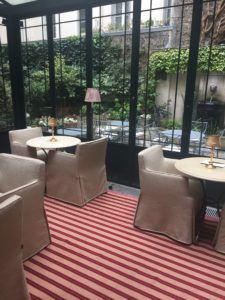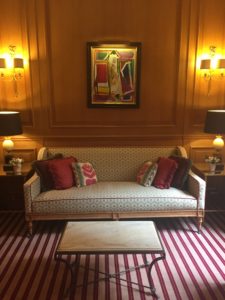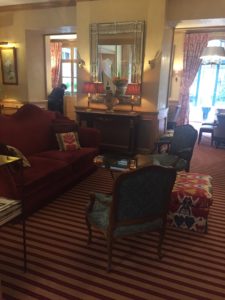 It is really an oasis in the middle of the bustling city. Lots of sitting areas to enjoy during the day.
Then we were off to the Musée du Luxembourg for a new Pisarro exhibit. It was beautiful.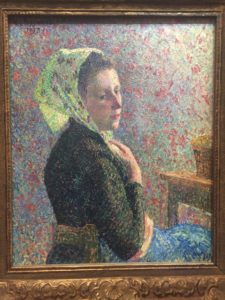 This picture doesn't do this painting justice. We stood staring at it for a long time. We also wound up going to Musée Maillol, where I'd never been before – great exhibit about the art collection of Paul Rosenberg, who was the dealer for people like Picasso and Braques – and who had to flee the Nazis, had a large part of his collection stolen/confiscated, and worked tirelessly after the war to get some of it back.
We also did a little shopping, and ran into lovely Rozenn from Hélium at Uniqlo, where we all got completely fascinated by their eerily human-like robot!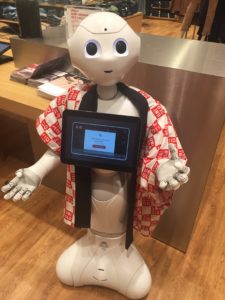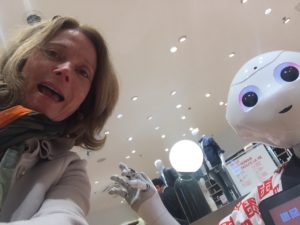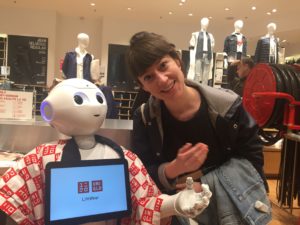 We had a wonderful evening; had made a reservation at La Coupole, but changed our minds because a lot of people say the food has gone downhill. So we just wandered, and stopped where we felt like it. We had a beer at a small café full of Parisians, tucked down a side street. Then we had amazing oysters and ceviche at La Huguette – I highly recommend it. Great hustle and bustle and people-watching spot too!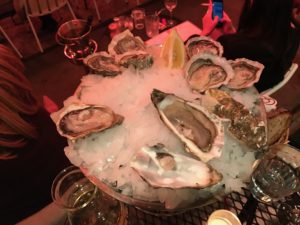 We then wandered back to Les Editeurs, sat outside again and watched the world go by while eating a cheese plate and drinking a glass of red wine. I felt like I'd fulfilled the quote on our Leonard Cohen print: "Paris Again. The great mouth culture. Oysters and cheese, explanations to everyone."